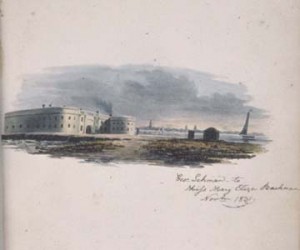 The Friendly Repository and Keepsake of Mary Eliza Bachman, 1831- 1839
Mary Eliza Bachman was born in 1818, the daughter of the Rev. John Bachman. John Bachman was Lutheran minister and naturalist from Charleston, S.C., who collaborated with John James Audubon. In 1839, Eliza met Victor Audubon, the son of John James, who was visiting because his brother John Woodhouse was married to Eliza's sister, Maria. On Dec. 4, 1839, Eliza married Victor. Their marriage was short-lived for she died of tubercuolosis in 1841.
Contains poetry copied by Mary Eliza Bachman as well as writings and drawings from friends. Poems include such titles as "Eliza's Search after Happiness," "Friendship," "What is Charity," "The First Kiss of Love," and "Tomb of a Woman." The volume features several pencil sketches and watercolors of note, including a sketch of Maria done by JCC, a castle, a windmill by W.H.W., and a watercolor of a thrush. George Lehman and Edward A. Leitner, assistants to John James Audubon, both contributed to the volume. Lehman painted a watercolor of Charleston that featured Castle Pinckney, a local landmark.
Courtesy, Winterthur Museum, Garden, and Library – Wilmington, DE